Moisture-Wicking School Shirts
Custom printed sporty t-shirts for school fundraisers, PTA fundraisers, events, teams, & school spirit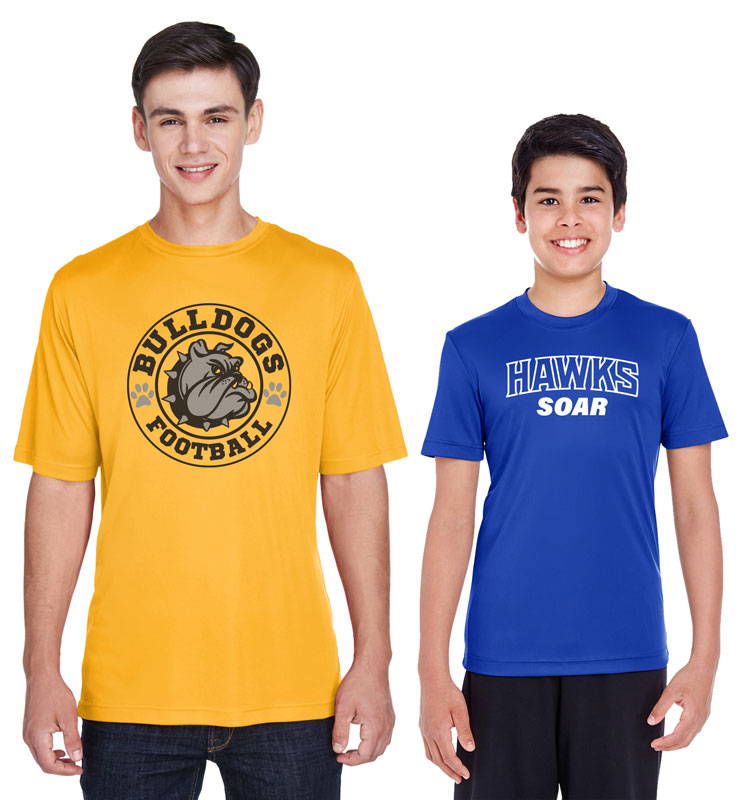 Order T-shirts for Your School
Print Mascot makes t-shirt fundraisers for your school easy and affordable! Our Team 365 moisture-wicking "sports" t-shirts are made of 100% polyester and feature SPF 40 UV protection. Best of all, we offer FREE design services and all of our shirts are printed in the USA!
Some popular school fundraiser shirts include:
Athletic / Sports Team Shirts
School Spirit Shirts / Spiritwear
School P.E. Shirts
Casual Uniform Shirts
Sports Championship Shirts
Field Day Shirts
School Mascot Shirts
PTA / PTO Fundraisers
Alumni Shirts
Standard Sizes
Youth: XS - XL | Mens/Unisex: S - XL | Ladies: XS - XL

250 performance t-shirts printed with 1 color

50 performace t-shirts printed with 1 color

100 performance t-shirts printed with 2 colors

GET A QUOTE FOR YOUR SCHOOL SHIRTS
Pricing on school t-shirts vary depending on the quantity selected and number of colors getting printed on the shirts. Call (800) 327-0693 or fill out the form below to get the best pricing to fit your needs.