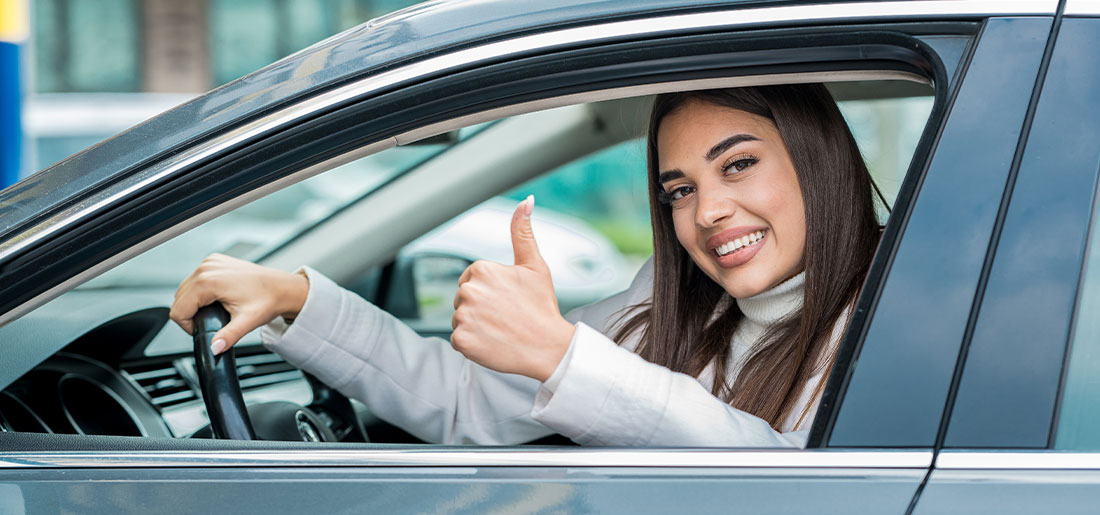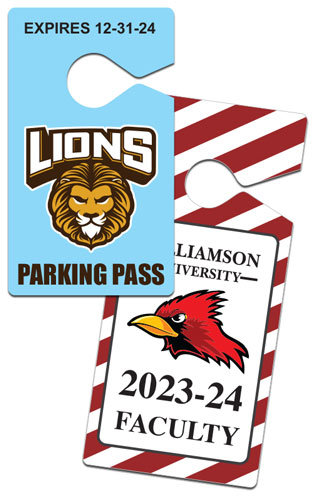 Custom

parking permit decals and hang tags

are essential for managing parking on a college or university campus.
Not only do they help prevent unauthorized vehicles from parking in designated spots, but they also serve as a powerful branding tool for the school.
If you're looking for a reliable printing company for your parking permit needs, Print Mascot is here to help. Some of the benefits you'll receive by ordering custom parking permit decals or hang tags from us include:
1. Durable Materials: At Print Mascot, we use only high-quality materials to create our parking permit decals and hang tags. Our parking permit decals are made of high-grade vinyl that is resistant to weather and fading. They also feature a special adhesive that makes them easy to apply and remove - in most cases they can be removed without leaving any residue. Our plastic parking hang tags and parent pick up car tags are made with durable plastic and can be hung from a vehicle's rear view mirror as needed. Hanging parking passes are printed on PVC plastic which is also waterproof and resistant to fading.
2. Flexible Options: Do your parking permits require color variations for different lots? Different versions for Students, Teachers, & Staff? Numbering and expiration dates? Barcodes or QR codes? No problem. We can help!
3. Design Services: Did you know that Print Mascot offers free design services on most orders? Send us your logo and an idea of what you are looking for and our team of professional designers will create some complimentary design concepts for you. Just have a picture of what you've done in the past? Send it our way along with a high resolution logo and our team will create print ready files at no additional cost. We always provide a digital proof prior to production so you know exactly what you'll be getting.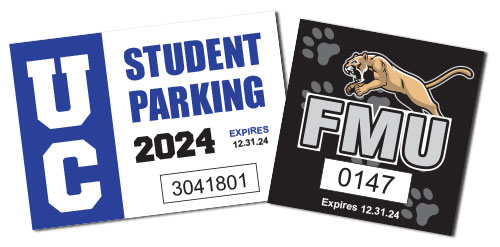 4. Easy Ordering Process: Ordering custom parking permit decals or hang tags from Print Mascot is a straightforward process. You can order directly through our website using the instant price calculator or by contacting our customer service team. Contact us via phone, email, or schedule a zoom meeting and one of our friendly representatives will help you every step of the way.
Print Mascot is the ideal partner for all your custom parking permit needs. With durable materials, an easy ordering process, flexible options, and complimentary design services, you can trust us to deliver high-quality products that meet your specific needs.