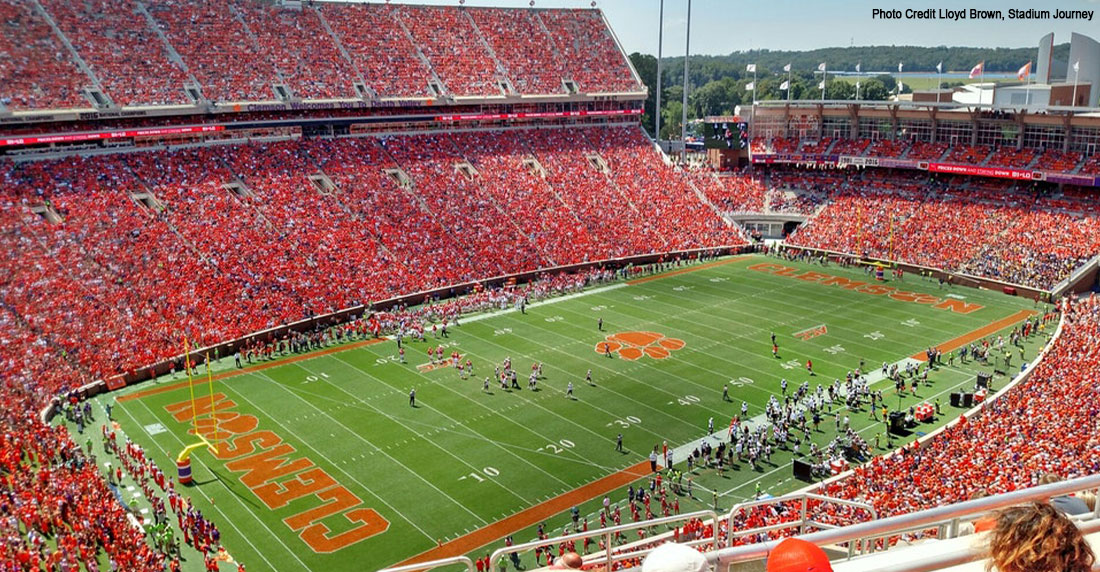 The Council of Alumni Marketing and Membership Professionals ( CAMMP) is an association comprised of alumni relations professionals that focus on marketing and membership for their college or university.
CAMMP was established in 1997 and Print Mascot's parent company, Custom Plastic Card, has been a proud sponsor for over 20 years. Each year, a different member school is selected to host the annual CAMMP conference for 3 days of intense learning and networking with like-minded professionals and sponsors.
The 2022 conference was hosted at Clemson University in South Carolina. There was a great deal of excitement around this year's in-person event after 2 years of virtual conferences. Although the virtual conferences did account for record numbers of attendees since no travel was required to attend, it's not quite the same as being there in person.
Account Manager, Christy Mallan, and Creative Marketing Director, Jocelyn Silverman represented Print Mascot at the CAMMP conference this year.
"It was exciting to meet with the college alumni marketing professionals in person this year and show them how our printed products can assist their alumni members.", said Silverman. "We were proud to supply the attendee member badges again this year and they were very well received!"
Print Mascot was created in 2020 as a way for Custom Plastic Card to better service the large amount of schools, colleges, and universities that were in need of printed products.
In the past, alumni associations were primarily interested in plastic membership cards. Many of them took advantage of the turnkey fulfillment services offered by Custom Plastic Card / Print Mascot.
As many alumni programs are switching to non-dues based or digital programs, some of them are starting to move away from plastic membership cards while others have no intention of stopping due to the tremendous value their members find in them.
Here are the top 5 products that alumni associations are looking for aside from membership cards:
Travel is back and better than ever which has made alumni member luggage tags a very hot item! Whether they are used for travel clubs, school spirit, or part of a swag bag, alumni members are sure to display them proudly on their bags.
In-person events are also back. Why not make your alumni members feel like true VIPs at homecoming, sporting events, or any other in-person activity? They are available in a variety of sizes and can be personalized with each member's name. Add sponsor logos and your plastic badges can become a money making tool for your college or university.
Custom car magnets are a tried and true way to promote school spirit and make a fantastic giveaway item. While car magnets are designed to withstand the elements, they can also be used indoors on file cabinets and refrigerators. Select a standard circle or square or go outside the box with a custom shape.
Laptop stickers are a fun way for alumni members to show their colors. Be sure to go with high quality decals like ours that will remove cleanly without leaving a residue. They are also weather resistant and can be used as window or bumper stickers.
Fridge magnets are a great way to stay top of mind with alumni members. They can be used to promote something generic like your school or to display a football or team schedule, or any kind of upcoming events.
About Print Mascot
Print Mascot is the only website dedicated exclusively to printing plastic cards, magnets, and decals for schools and universities.
We make it easy with FREE design services on most orders $250+ and a friendly support team. Best of all, our products are proudly printed in the USA from our factory in Pompano Beach, FL.
Curious to see how your alumni products will look? Just send us your logo and an idea of what you are looking for and we'll take care of the rest. Click here to get started