In recent years, several companies have emerged that specialize in high school sports fundraising. Many of them include elaborate websites that require athletes, parents, and their relatives to create logins to donate.
There are some great programs out there but if you are looking for easy, tried-and-true fundraisers for your school's teams, try these simple options:
1. CAR MAGNETS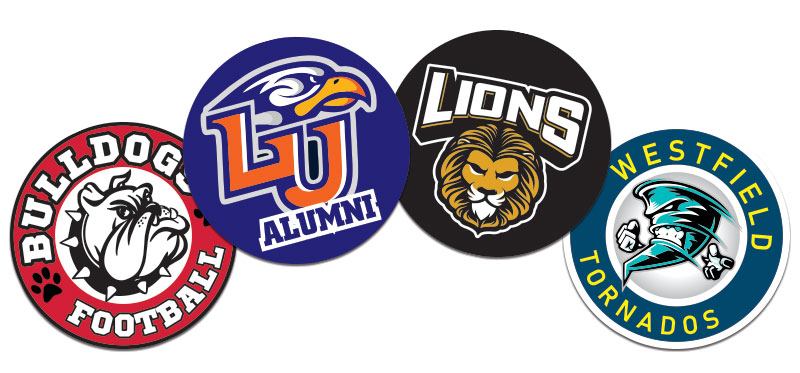 Promoting your team - both on campus and off - is a great way to bolster school spirit. Car magnets make an easy high school fundraiser and a great way to show school or team spirit everywhere students go. While Circle Car Magnets are definitely the most popular shape, there are a wide variety of options available including Oval, Square, Rectangle, and even Custom Shaped Car Magnets.

Fundraising car magnets are an economical item for high schools and their football, baseball, basketball, and other athletic teams because the profit margins are immense.

Custom car magnets are typically sold for $5 - $10 each which can generate a very nice return on your investment.

The numbers speak for themselves. Car magnets are a simple fundraiser that anyone can afford with an incredible return on investment to raise funds for your school.
2. SEASON SPORTS PASSES
Plastic Sports Season Passes are a great high school fundraiser that has been made popular by football teams. These plastic cards are the same size and thickness as a credit card. They are typically sold as a season ticket that can be used at all home football games during the regular season.
There are many options available on plastic season tickets. They can be numbered for easier tracking. A bar code or QR code can also be added for scanning at the field prior to entrance. Either a single set can be created or multiple sets can be printed. For example, some can be printed with the word "student", others with faculty, staff, parent, sponsor, and so on.

500 plastic season passes can be printed for less than $1 each. These plastic cards can then be sold for $10 - $100 each, bringing a return of 1,000 - 10,000% on your initial investment. Want to sweeten it even more? Get a corporate sponsor and print their logo on the cards. This will cover your initial investment and allow your sponsor to stay in front of students, faculty, and parents all season long. Best of all, season passes are a fundraiser that can be done year after year, generating huge profits for your team.
3. BUMPER STICKERS / LAPTOP DECALS


Bumper stickers aren't a new concept, but there are some new uses for them that make this a fantastic fundraiser for your high school. Bumper stickers aren't just for bumpers anymore. These high-quality, weatherproof vinyl stickers can be placed on rear windshields, computers / laptops, windows, doors, and can be made as a decal or removable cling.

Here are just a few fundraising ideas for bumper stickers / laptop decals:
School Spirit Bumper Stickers
School Spirit Laptop Decals
Team Spirit Car or Laptop Stickers
Team Championship Car or Laptop Stickers
They come in the traditional Rectangle Bumper Sticker shape but can also be ordered in a variety of shapes and sizes including Square, Circle, or Oval, all of which can be easily removed from vehicles and are guaranteed to be weatherproof for a minimum of 2 years - though they typically last much longer.

Pricing on vinyl bumper stickers varies depending on the number of ink colors used, size/shape, and the quantity selected. 500 stickers can be purchased for $0.50 to just over $1 depending on the options selected. They can then be sold as a fundraiser for $5 - $10 each. That's a return of 500% - over 1,000% on your initial investment!
4. TEAM SPIRIT T-SHIRTS
School Spirit T-Shirts are another very popular fundraiser for high school team spirit, football, basketball, baseball, and other athletic teams. There are a couple of different strategies that can be used when it comes to shirt fundraisers.


One option is to pre-purchase a wide variety of colors and sizes that you will hold in inventory and sell throughout the year. These are popular for in-person games, special events, or schools with eCommerce stores. They can be big moneymakers but keep in mind that you may be left with unsold shirts. Another option is to announce and market a special t-shirt event and set a deadline for when the orders must be placed by. You then tally up the quantity needed for each size / color and purchase the shirts after the fact. This way you aren't purchasing anything in advance but you will then need to distribute the pre-purchased shirts to students.
Some schools do a combination of both depending on the time of year, type of event, or shirt being sold. When it comes to the actual shirts, the most popular are standard cotton t-shirts with tie-dye shirts and moisture-wicking "sports" t-shirts gaining in popularity. School t-shirt fundraisers include:
School Spirit Shirts / Spiritwear
Athletic Team Fundraisers
Alumni Shirts
Team Championship Shirts
Pricing can vary greatly depending on the type of shirt, number of ink colors used in the design, and the quantity of shirts purchased.

For example, if 250 cotton t-shirts are printed with 1 color, this can cost roughly $7.50 each while a "sports" shirt printed with 3 colors would cost roughly $10.00 ea. These shirts are typically sold for $10 - $25 each. This would mean an investment of $1,875 - $2,500 would generate $2,500 - $6,250 in revenue. This brings a net profit of $625 - $3,750 once all 250 t-shirts are sold but unlike some of the other items that are sold annually, t-shirts can be sold several times throughout the school year.
5. TEAM SCHEDULE FRIDGE MAGNETS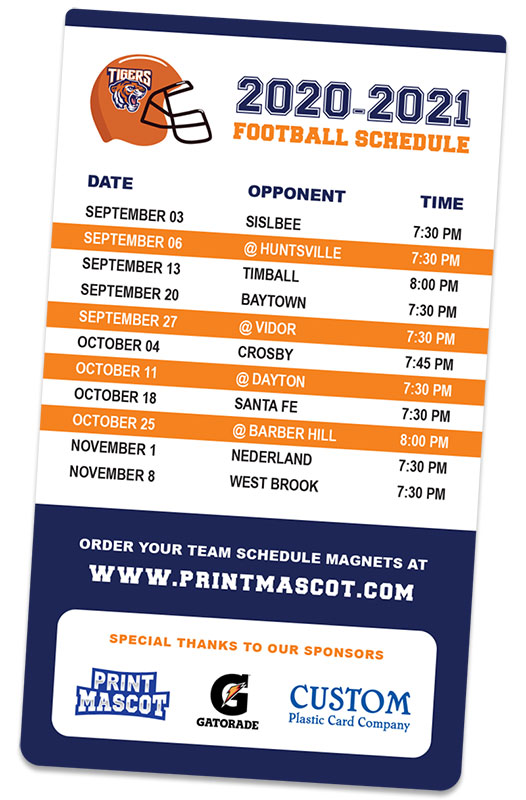 While electronic schedules are trending right now, there is something special about looking at a schedule on your refrigerator or locker. High school team schedule magnets are most popular with football teams but they can be created for any sport - or even as a school semester calendar.
Team schedule magnets are available in a few different sizes. 500 fridge magnets measuring 3.5" x 6" can be purchased for roughly $0.50/ea.
Unlike the other fundraisers listed above, schedule magnets are typically a giveaway item or included as part of a season ticket package.

You are probably wondering how your school can profit from a giveaway item and the answer is simple. Sponsorships. You can sell sponsors the opportunity to add their logo to the magnets and stay in front of your students - and their parents - all season long.

Your custom schedule magnets can be designed to accommodate a single company logo or several. A primary sponsor could get a larger logo placement while others get a smaller logo. There are many options available here. Once this sponsorship program is established, it can easily be repeated year after year or applied to a variety of different sports.
Not sure where to start?
Print Mascot prints magnets, decals, plastic cards, and apparel for schools like yours!
Our friendly representatives are available to assist you in determining which products will work best for your school fundraiser. We offer FREE design services on any purchase over $250. In addition, all of our products are printed in the USA!
Call (800) 327-0693, click here to request a quote, or click here to schedule a FREE virtual strategy consultation on ZOOM.