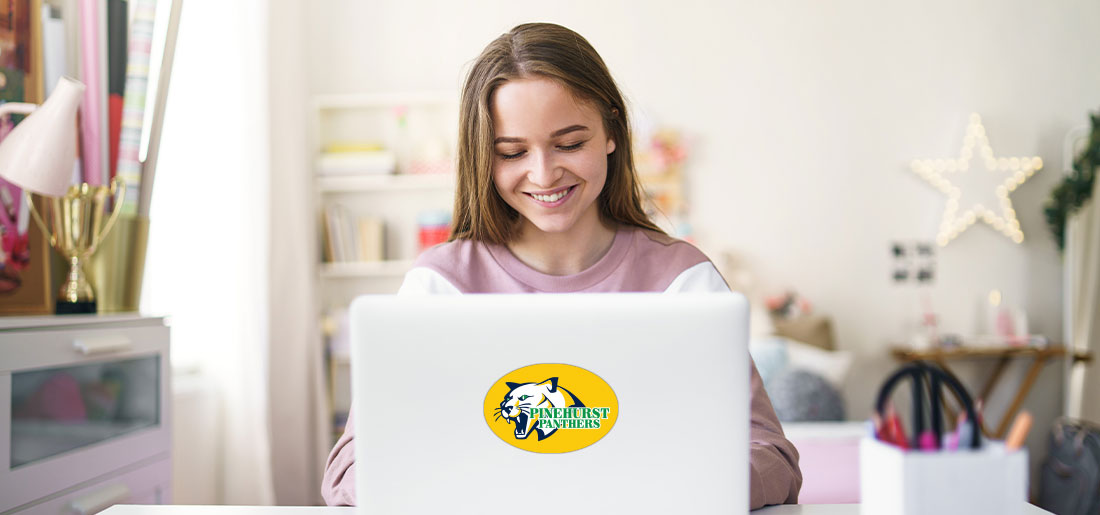 One year after schools initially shutdown due to the coronavirus, things are far from back to normal. Schools are completely different, along with the ways students are being taught. Some students continue to learn remotely while others are attending school on campus using enhanced safety protocols.
Even students and faculty that are back in the classroom are wearing masks, sitting behind plastic dividers, and distancing as much as physically possible. Many people are feeling isolated, even when they are together. It's just not the same but it seems that this will be the new normal for a while.
Sometimes it's the little things that can go a long way when it comes to feeling a sense of belonging. School spirit items can do just that.
Whether you are looking for a school fundraiser, graduation project, or just a little something to help with school spirit and put a smile on someone's face, Print Mascot has several affordable options that can help.
Students are tied to their computers now more than ever which has made school spirit laptop stickers a very popular product. They are printed on high quality, weatherproof vinyl which means that school spirit stickers can also be placed on car bumpers, rear windshields, windows, doors, desks, lockers, or anywhere you'd like to promote school spirit.
Some schools prefer to use these as a school spirit giveaway while others will use them as a PTA fundraiser or athletic team fundraiser.
School Spirit Social Distancing Floor Decals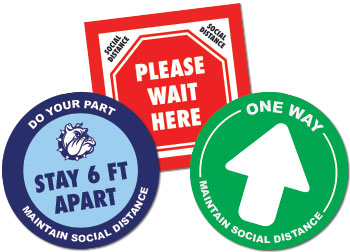 Remind students to keep a safe distance from each other in hallways, classrooms, and the cafeteria with social distancing floor decals to assist in preventing the spread of the coronavirus. Why stick with harsh warning labels when you could create custom floor decals featuring your school's mascot or logo? Social distancing floor decals are available for both indoor and outdoor use and can be used as a tool to promote both school spirit and safety on campus.
Make Graduation Special for the Class of 2021
Like everything else, graduations will look a bit different this year. Whether your school's graduation will be in-person, virtual, or a combination, ordering printed products with your mascot or logo can help to make it extra special.
Diploma plastic cards
Class of 2021 t-shirts
Graduation magnets
Class of 2021 bumper stickers
School Car Magnets
It's hard not to notice that car magnets are incredibly popular these days - especially circle car magnets. These are a very popular item that can go a long way in promoting school spirit and a sense of community.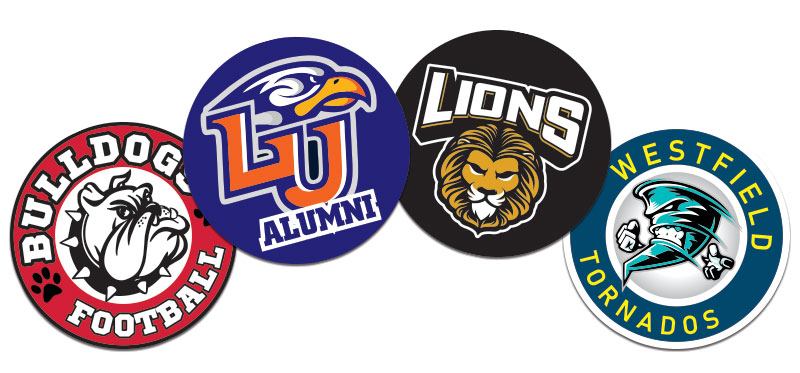 Magnets are affordable and can be easily removed and reapplied at any time. They can be printed with the school's logo, mascot, or with a unique message to promote an event. Some schools give these away as a freebie while others use them for fundraising car magnets for the PTO or PTA, athletic sports team fundraisers, or even as an item to sell in their school bookstore.
Refrigerator Magnets
Fridge magnets are another inexpensive option that is available in a variety of shapes and sizes. A simple school spirit design can be printed on them, or something more informative containing important phone numbers, email addresses, and websites. They can also be used to promote a special event, championship, or a schedule magnet outlining a school or team schedule. Refrigerator magnets stick to any indoor metal surface including file cabinets and lockers, making them a valuable tool for faculty, students, and parents alike.
School Spirit Shirts
School spirit shirts are always a popular item for schools as sponsored giveaways, school fundraisers, and team spirit. Why not surprise kids that are finally back on campus with Welcome Back shirts? Create something extra special for the class of 2021 or just create shirts with your mascot for extra school spirit? Popular t-shirt uses include:
Graduation T-shirts
Welcome Back to School Shirts
School Spirit T-shirts
Athletic Team Shirts
PTA Fundraiser T-shirts
Whether you work at a public school or private school, one thing is certain - Students everywhere need to feel a sense of belonging. School spirit items are small but mighty and tend to put a smile on students' faces when they proudly display them.
About Print Mascot
Print Mascot is the only website dedicated exclusively to printing plastic cards, magnets, decals, & apparel for schools and universities. Our car magnets, bumper stickers, and t-shirts make fantastic school fundraisers!
We make it easy with FREE design services on most orders $250+ and a friendly support team. Just send us your logo and an idea of what you are looking for and we'll take care of the rest. Best of all, our products are proudly printed in the USA from our factory in Pompano Beach, FL.
Looking for school fundraising ideas? You may be interested in these related articles:
- 5 Easy High School Fundraisers for Teams That Work
- 4 Easy School Fundraisers for PTA, PTO, and Sports Teams That Work